Cruises
Apr 17th, 2023 to Apr 22nd, 2023 (6 days/5 nights)
A Revolution Is Happening...
&nbsp:
Bliss Cruise has announced the April 17-22, 2023 Celebrity Summit Cruise! The five day sailing will depart from Miami and visit Ocho Rios, Jamaica and Georgetown, Grand Cayman.
&nbsp:
Celebrity Cruises will spend over $500 million in the coming years to revitalize its fleet of...
May 18th, 2023 to May 25th, 2023 (8 days/7 nights)
Desire's Venice Cruise is an escape from the ordinary. This cruise is a clothing-optional voyage embarking in Venice Italy and debarking in Rome, Italy. Imagine eight sizzling hot days, seven exotic nights, and seven beautiful destinations. Desire Cruise will include exclusive areas that stay true to the Desire brand and offer an...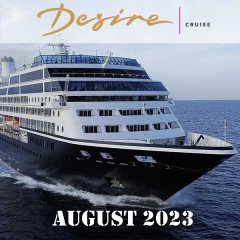 Aug 26th, 2023 to Sep 2nd, 2023 (8 days/7 nights)
Submerge yourself in the Desire experience, a world of erotic pleasure, where fulfilling your fantasies and awaking your senses is your only objective. Lose yourself in the sensuality of a couples-only ambience, full of respect and intimacy, vibrating in pleasure without limits, where clothing is optional. Participate in the...
Nov 5th, 2023 to Nov 11th, 2023 (7 days/6 nights)
Lifestyles Cruise announces the next exciting Bliss Cruise. Bliss Cruise has announced its next clothing-optional charter on board the Celebrity Equinox. This Seven-night cruise sets sail on November 5-11, 2023. If you have ever been on a Lifestyles Cruise, you will know what we are talking about here. Starting the evening before the...
Dec 30th, 2023 to Jan 7th, 2024 (9 days/8 nights)
You and your partner are invited to welcome 2024 with us on a sensual 9-day/8-night South American voyage on board the intimate Azamara Quest ship. The Desire Rio de Janeiro Cruise, sailing December 30, 2023 - January 7, 2024
Feb 19th, 2024 to Feb 24th, 2024 (6 days/5 nights)
Our Temptation Caribbean Cruise number four will be naughtier than ever before as we take our adults-only playground offshore once more for an adventurous, vaccine-free high-seas encore. This 6-day/ 5-night Western Caribbean Cruise will sail on board the almighty Celebrity Summit.
Apr 22nd, 2024 to Apr 27th, 2024 (6 days/5 nights)
3 words: Promenade - Promenade - Promenade! For the first time the Spring cruise will give guests the chance to experience the Promenade. Just like the Independence and Oasis of the Seas Cruise, Mariner of the Seas has a Promenade! This is a restaurant and shopping area that runs half the length of the ship. It's the perfect place to...
May 4th, 2024 to May 11th, 2024 (8 days/7 nights)
The Desire French Riviera Cruise will start in a seductive port that overflows with beauty and pride: Barcelona. From there, we will set sail for Marseille and Toulon, France, before continuing to Italy, where we will be provoked by Portofino and Livorno before reaching Civitavecchia, our final destiny.
Nov 10th, 2024 to Nov 17th, 2024 (8 days/7 nights)
Change how you stay, play and unwind during our Bliss Cruise on the Symphony of the Seas. Each day and night brings something new to do, see and explore one of the seven distinct "neighborhoods" throughout the ship. The themed neighborhoods include Central Park, Boardwalk, the Royal Promenade, the Pool and Sports Zone, Vitality at Sea...









Powered by Desire Vacations | Privacy Policy | Contact Us |

Desire Vacations ® Copyright 2006-2023

DesireVacations.com

All Rights Reserved.

Desire Vacations is a division of Right Connection, Inc. 2375 E. Tropicana Ave #172, Las Vegas, NV 89119

102862 --- f3fjm4pvtiil84hrot235dk78gio0upk86p0ijjvh8vrl69klt1pqc087atdhns85s1m1tlhubd8b8eqkf840lpqibqojgmu --- 205





&nbsp